Sunbeam Alpine & Tiger Tech Tips
Positive to Negative Earth
Reasons to Convert to Negative Earth
1. To fit modern Radio CD player
2. To fit Alternator (see fitting Alternator)
Items to Modify
Battery
Swap battery positive and negative connections. Note positive battery post is larger than negative post, so you may require new connections, longer earth lead or new battery with posts on the other side.
Dynamo
Re-polarize the dynamo (generator), this is easy just flash the 'F' terminal (the small one on dynamo or you can do it on control box 'F' terminal) on the dynamo 2-3 times with a positive (+) feed after swapping battery terminals but before turning on or starting. The dynamo magnetic field is now reversed.
General Electric's
Starter motor, windscreen wiper motor, all lights, horn (unless air horns fitted) will work fine. The heater blower might run backwards and need wires reversed.
Gauges
All are ok except for rev counter (if electronic), ammeter and clock if fitted.
Rev Counter
You can fit series V rev counter but the number display will not match the other ones.
The positive earth rev counter can be changed to negative earth quite easily, if you take the take the rev counter out of dash board, remove glass, undo the screws with washers that hold the mechanism in casing, you will then see the two connections going into meter (green wire and a resistor), all you need to do is swap them around (see picture, this is modified for negative earth) and put it back together and change the direction of the inductive wire pick up loop on the rear of meter (part of the cars wiring loom)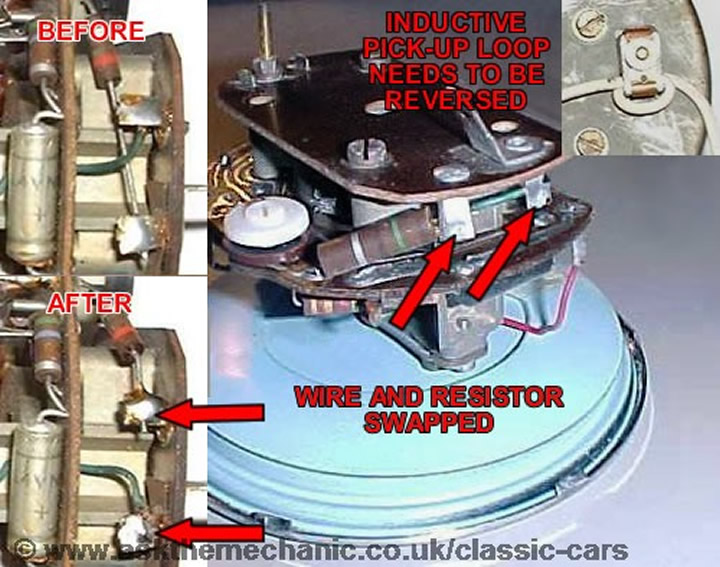 Ammeter
If you have an ammeter fitted you will need to reverse the main cables around or it will work backwards. If fitting an alternator the 30-0-30 ammeter may not be able to handle the output of a modern alternator and may need disconnecting.
Ignition Coil
You will need to swap the ignition coil wires SW (+) and CB (-).If you don't you will get a weak spark.
Extras
If fitted, extras like electric aerial, electric windscreen wash pump and electric cooling fan etc. might work backwards so will need wires swapped round.
Cigarette Lighter Socket
Wires need to be swapped if fitted.