Sunbeam Alpine & Tiger Tech Tips
Wheels & Tyres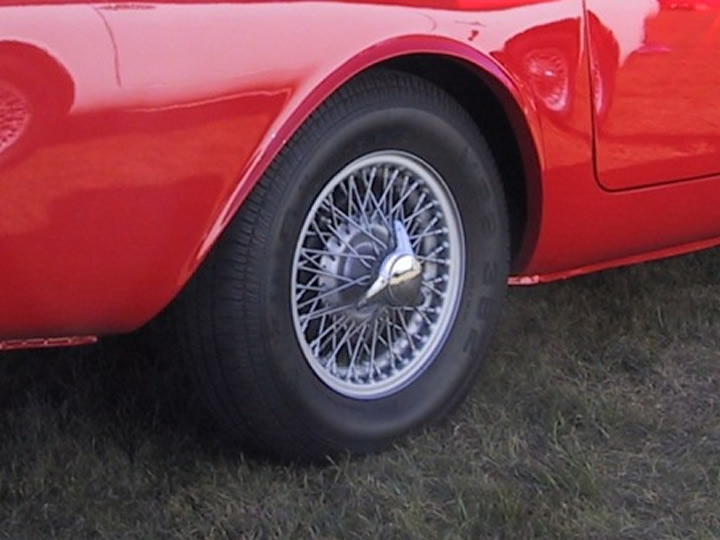 I fitted 175/R 13 or 175/80R 13 which has profile (or aspect ratio) of around 80% of the width, this is quite a high profile for a radial but I think looks better than lower profile tyres e.g. 175/70R 13 which look to small on a car that would have had cross ply tyres fitted. This profile tyre was used on Ford Sierra estate and is still available.
Standard Rim Size
Workshop manual on wheel sizes - Series I to IV says that the standard wheel width is 4" for both steel disc and wire spoke. So it seems that the switch to 4.5" happened with the Series V. The distance between studs is 4.25" pcd the same as Fords.
Warning if you fit Ford wheels like Rostyles they are flat and need a thin spacer on the rear to stop wheel sitting on brake drum edge and being overstressed when tightened.
They also need the correct wheel nuts, Rootes nuts are domed Ford nuts are conical, wrong wheel nuts will damage the wheel or come loose..
Which Type of Wheel
Steels Wheels
Come as standard but don't look very sporting, but don't give any problems.
Wires Wheels
Factory optional extra, look period and sporting, problems can be are worn hubs (clonking on accelerating and braking) and broken spokes.
There two ways to fit them to a car with steel wheels
1. Change hubs to spline type can be a problem on rear hubs to remove from half shaft (series V shafts are thicker) see removing rear hubs
2. Use bolt on wire wheel adaptors (see picture), disadvantage is they increase the track slightly, but are bolt on.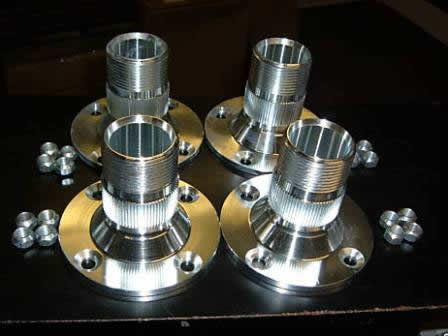 Alloy Wheels
The right type of wheel can look period and sporting, without the problems wires can have, good choices are
1. Minilites classic period wheel and still available
2. Exaction fitted to later Hillman Avenger Tiger look close to original Rootes alloy wheel
3. Dunlop D1/LP922 Nice if you can find them. Midland Wheels may make a copy
4. Comsic part no. RW 027/042 5.5 x 13inch may need thin spacer on rear (below right)
5. Revolution look good maybe a little to modern, still available (Below left)