Sunbeam Alpine & Tiger Tech Tips
Fitting an Oil Cooler Series I-IV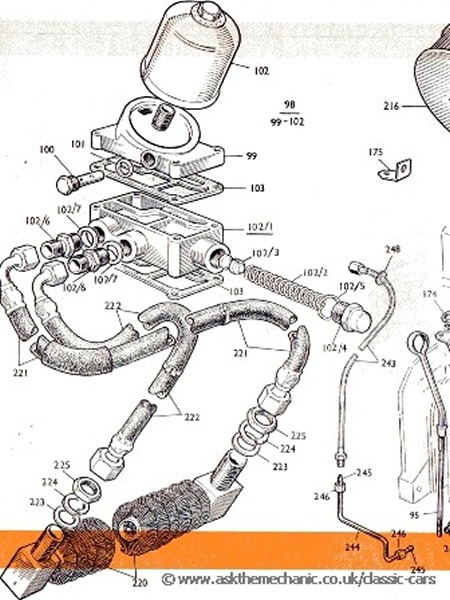 Note, parts images taken from my Parts List CD click here for more details
Which Oil Cooler?
You have two options,
1. Use the series V oil cooler and pipes (picture above), this sound easy but you would need to weld the brackets to the front panel, also make sure that the cooler is nice and clean.
2. Use a standard type oil cooler mounted in front of the radiator, when Rootes design the Alpine they had racing in mind and there are 4 dimples in the bonnet/radiator panel, these just need drilling and using some metal strip a simple bracket can be easily formed to support the oil cooler.
The picture below shows the Rootes parts that were available, alternative parts to these can be still sourced new.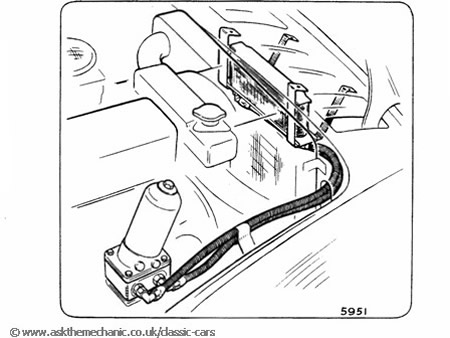 Note, parts images taken from my Special Tuning CD click here for more details
Connecting the Oil Cooler
New oil pipes are available so are not a problem and there are two ways to connect to the engine.
1. The best way would be to use series V Alpine adapter block (part no 1228194 see top picture) that's fits between the block and the filter housing, but these are getting rare.
2. Use a sandwich pate (Mocal ¾ UNF) that fits under the oil filter (see picture below), the screw on Alpine oil filter is the same as the Ford Pinto so oil filter Sandwich Pate are easy to find, but you would have to change to screw on oil filter/housing but these are easy to find.