Cambelt
When Should I Change My Cam Belt?
I have put together a table of what mileage cam belts should be change. This is only a guide and you should check with your dealer for exact replacement mileage. The first mileage is the recommend manufacture replacement and the second mileage is what I would recommend from experience of seeing belts break.
MAKE

MANUFACTURE
REPLACEMENT

YEARS

RECOMMENDED
REPLACEMENT

ALFA ROMEO

72,000

5

36,000

BMW

56,000

4

56,000

CITROEN
PEUGEOT

SMALL PETROL/DIESEL 72,000

10

50,000

LARGER DIESELS 100.000

10

80.000

FIAT

72,000

5

60,000

FORD

OLDER FORDS 70,000

4

40,000

LATER FORDS 100.000

10

80.000

RENAULT

72,000

5

60,000

VAUXHALL

80,000

8

60,000

VW

CHECK OR REPLACE 60,000

8

60,000
Noise from Cam Belt Area
If you here any noises from the cam belt area don't drive the car, below are pictures of a tensioner and a water pump where the bearing has failed, these both caused engine damage the same as if the belt had broken. If you can hear a slapping noise the belt is loose and hitting the cover and needs adjusting or replacement.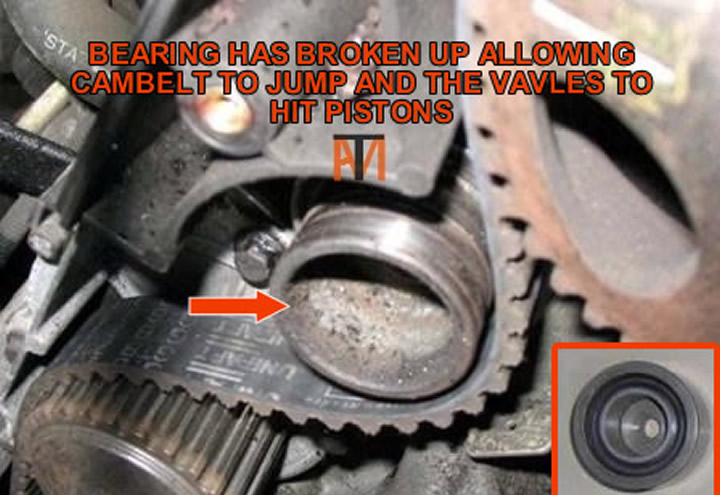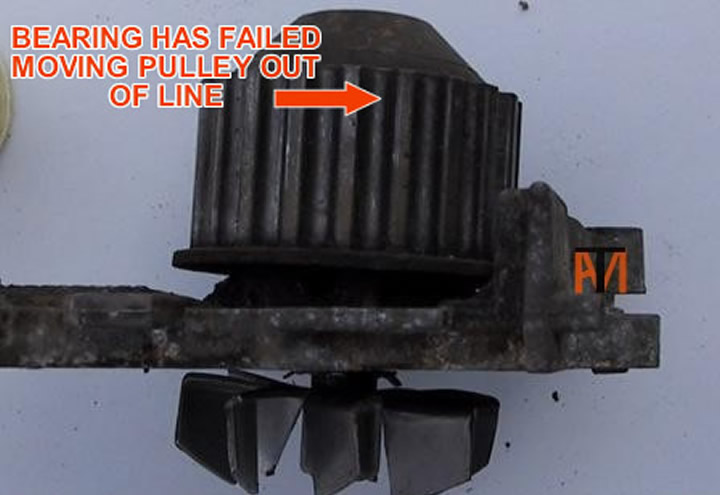 Cam Belt Kit
Most cars require a kit not just the belt, this will include belt, pulleys and tensioner, see picture.