Sunbeam Alpine & Tiger Tech Tips
Horn Relay
My car is fitted with Lucas Windtone horns, these had always seemed poor so I replaced them with a pair from a BMW, this gave no real improvement so I replaced the originals, checking further found I was losing voltage on the horn switch, cleaning the contacts made a slight improvement but not great.
So I decided to fit a relay this gave an excellent loud horn. I wanted the relay to be out of sight so I disconnected the snap connecter "C. beneath fascia adjacent to steering column" (Rootes wiring diagram) connecting terminal 2 to the purple/black wire going to the switch and terminal 5 to the other purple/black wire, fitting the relay plus one live and earth (horn load now on this wire) next to the column and connected as above, if using relay with different terminals 1= W1 or 85, 2 =W2 or 86, 3 = C1 or 30, 4 = C2 or 87.

Lucus Windtone Horn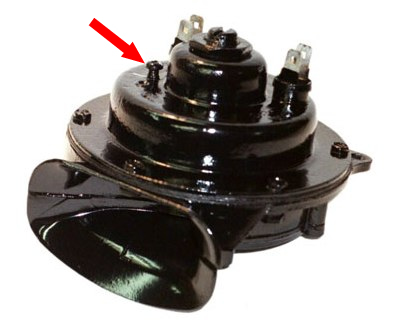 You can adjust the horns with this screw, disconnect the other horn when adjusting and make sure each horn only draws a maximum average current of 3.5 amps.